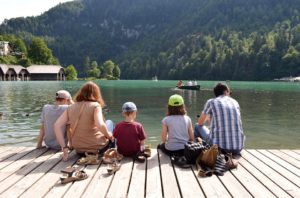 Whether this is the first time that you are travelling with your kids or you have travelled with them for a couple of times, you know that preparing them can be daunting and while it can really be exciting for you and them, the preparation can sometimes be overwhelming. Here are some tips that you can do before you travel with your kids:
Before going to the airport
Double check everything. If you are the mom who is preparing your kids for a holiday trip, it is likely that you would be the one who will ready everything. From the clothes of your husband to you, down the kids. Make sure you check they have everything they need and that the house is also set cleaned before you leave.
You need to double check everything there is to double check. Make sure you double check the airline 24 hours in advance and know if the departure and return times haven't changed.
Know what you can carry. Having kids at the airport and even after you have arrived at your location may become chaotic especially if you have a lot of bags to mind. Make sure to know how many you can manage since it will be difficult to watch your belongings while also watching the kids at the same time.
At the airport
Board early. If you can board early, then do it. This will make your life easier as you can prepare the kids to sit in their designated chair while you will be able to stash the bags where you want them.
Don't forget their toys. If you are travelling with a child that may not like to sit for a long time making sure that you have a lot of toys to distract them. You can bring small toys, stickers, magnets, colouring books and the likes.